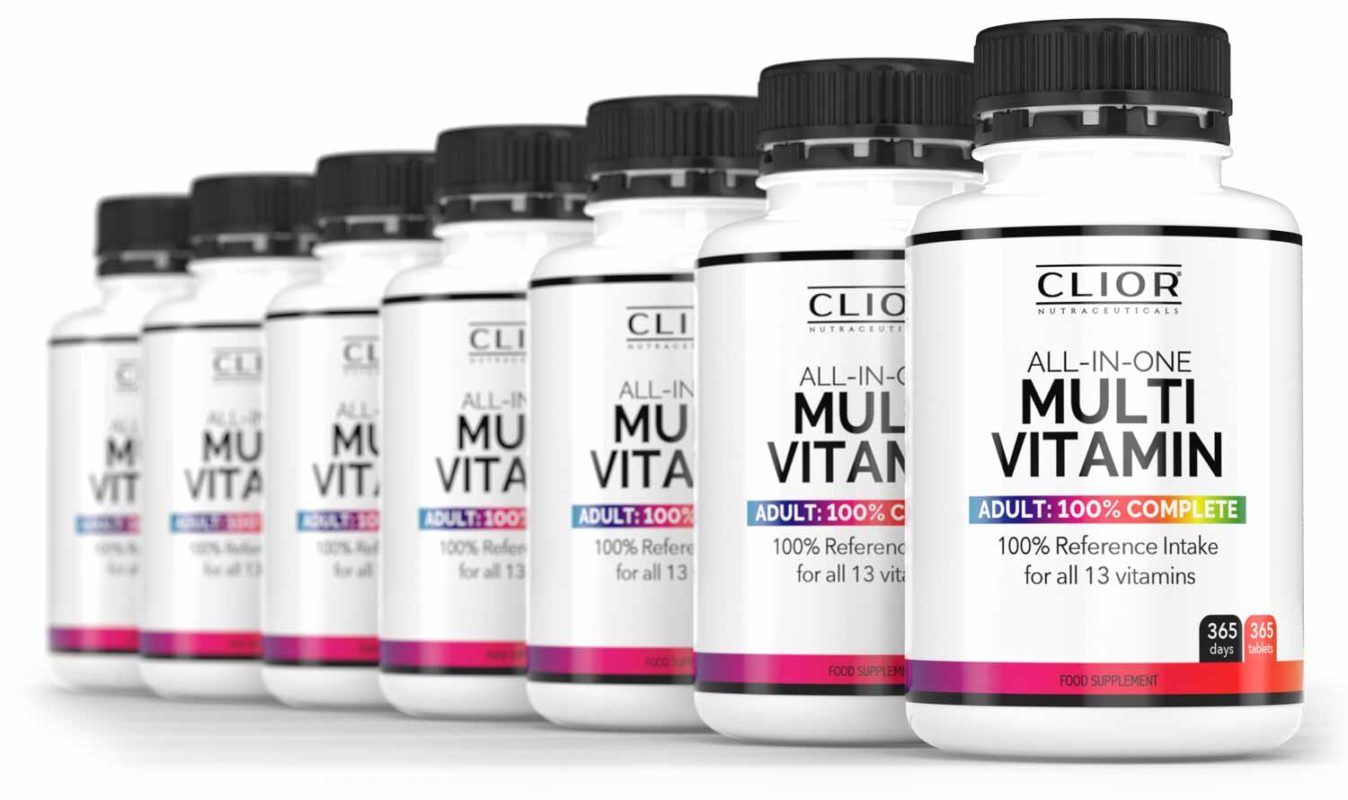 Supporting daily wellbeing
It can be difficult to make food choices every day that give you the perfect diet and intake of vitamins.
Clior's All-In-One Multi-vitamin tablet for Adults provides just what your body needs, with 100% RDA (no more, no less), supporting your health and wellbeing all year round.
100% Satisfaction
Not all supplements are the same! Clior®  All-in-One Multivitamin Vegan tablets are made in the UK, to maximum safety & ISO standards for assurance and peace of mind.
Best Value
Each bottle contains 365 tablets which will last you a full year when taken 1/day. Only 1 supplement is required to get 100% of your UK recommended daily intake of all 13 vitamins.
Trusted by thousands
Clior®  have been supplying health supplements since 2017, and have grown significantly over that period to supply thousands and thousands of happy customers!
Just what I was looking for!
I've been looking for a UK made multi-vitamin that was easy to swallow because so many of the others I tried were huge and had a weird smell. This is perfect for me and reassuring that it's got 100% of what I need, and no more. Highly recommend.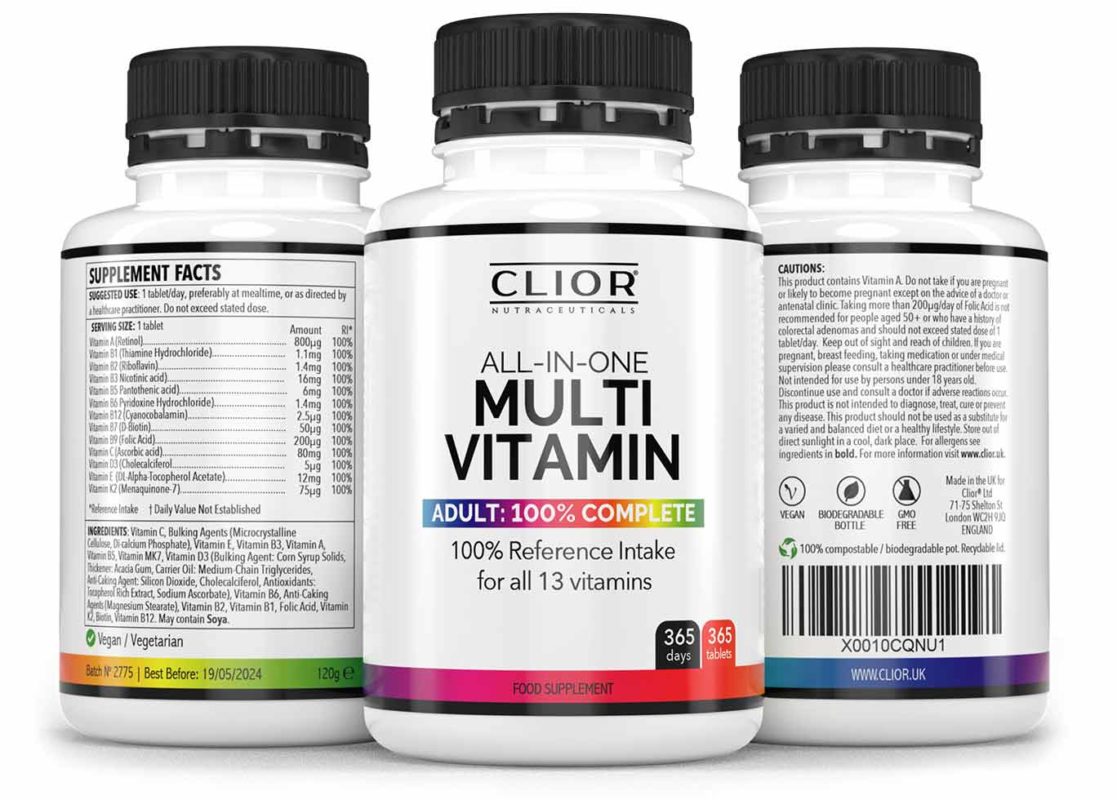 100% Reference Intake (UK)
ESSENTIAL VITAMINS 100% RI
Vitamin A (100% RI)
Vitamin B1 (100% RI)
Vitamin B2 (100% RI)
Vitamin B3 (100% RI)
Vitamin B5 (100% RI)
Vitamin B6 (100% RI)
Vitamin B7 Biotin (100% RI)
Vitamin B9 Folic Acid (100% RI)
Vitamin B12 (100% RI)
Vitamin C (100% RI)
Vitamin D3 (100% RI)
Vitamin E (100% RI)
Vitamin K2 (100% RI)
All vitamin doses are exactly 100% of daily EU / UK Reference Intake (RI), otherwise known as NRV (Nutritional Reference Value) or RDA (Recommended Daily Allowance).
No more, no less….
Many multi-vitamin tablets either contain only a fraction of the UK's recommended Reference Intake quantity, or omit some of the more expensive ingredients (such as K2 or D3), or in other cases contain much higher doses than recommended which may even cause harm.
Clior®'s All-In-One Multivitamin for Adults, contains exactly 100% of all 13 vitamins. No more, and no less.
No added fillers or nasty chemicals.
100% VEGAN.
Who should take All-In-One Multi-Vitamin?
Most people can get enough vitamins and minerals in their diet by making the right food choices. However, for a number of reasons, that might not always be possible to make the best food choices every day. Multi-vitamin tablets can therefore be taken to supplement your diet and ensure your body is getting the daily vitamins it needs.
The new advice from Public Health England (PHE) is that UK adults should consider taking a daily supplement of Vitamin D, particularly during autumn and winter.  
Clior's All-In-One Multivitamin for Adults contains 100% of your NRV of Vitamin D3, alongside 100% of all other vitamins.
Brilliant – 365 tablets in one bottle at this price is fantastic and I'm so pleased they're much smaller than my other multi-vit which i used to hate taking beecause of the gross taste. These have no taste or after-taste and are so small I have no problem taking them. Great – thanks.
SUPPLEMENT FACTS
SUGGESTED USE: 1 tablet per day, preferably at mealtime, or as directed by a healthcare practitioner. Do not exceed stated dose.
SERVING SIZE: 1 Tablet contains;
Vitamin A (Retinol),
Vitamin B1 (Thiamine Hydrochloride),
Vitamin B2 (Riboflavin),
Vitamin B3 Nicotonic acid),
Vitamin B5 Pantothenic acid),
Vitamin B6 Piridoxine Hydrochloride),
Vitamin B12 (Cyanocobalamin),
Vitamin B7 (D-Biotin),
Vitamin B9 (Folic Acid),
Vitamin C (Ascorbic acid),
Vitamin D3 (Cholecalciferol,
Vitamin E (DL-Alpha-Tocopherol),
Vitamin K2 (Menaquinone-7),
* Reference Intake
INGREDIENTS: Vitamin C, Bulking Agents (Microcrystalline Celulose, Di-calcium Phosphate), Vitamin E, Vitamin B3, Vitamin A, Vitamin B5, Flow Agent (Silicon Dioxide), Vitamin D3 (Bulking Agent: Corn Syrup Solids, Thickener: Acacia Gum, Carrier Oil: Medium-Chain Triglycerides, Anti-Caking Agent: Silicon Dioxide, Cholecalciferol, Antioxidants: Tocopheral Rich Extract, Sodium Ascorbate), Vitamin B6, Anti-Caking Agents (Magnesium Stearate), Vitamin B2, Vitamin B1, Folic Acid, Vitamin K2, Biotin, Vitamin B12. May contain Soya.
Clior® only use natural ingredients with the minimum amount of unnecessary processing and treatments to ensure you get the best possible supplements.  Colour variations and speckles are therefore expected in 100% natural tablets.
CAUTIONS: This product contains Vitamin A. Do not take if you are pregnant or like to become pregnant except on the advice of a doctor or antenatal clinic. Taking more than 20µg/day of Folic Acid is not recommended for people aged 50+ or who have a history of colorectal adenomas and should not exceed stated dose of 1 tablet/day. Keep out of sight and reach of children. If you are pregnant, breast feeding, taking medication or under medical supervision please consult a healthcare practitioner before use. Not intended for use by persons under 18 years old. Discontinue use and consult a doctor if adverse reactions occur. This product should not be used as a substitute for a varied and balanced diet. This product is not intended to diagnose, treat, cure or prevent any disease. Store out of direct sunlight in a cool, dark place.
Suitable for vegan, vegetarian and gluten-free Diets