One tablet, FIVE key ingredients
Unique 5-in-1 joint support tablets. Five key ingredients in a single, max potency tablet, known to promote healthy joints. Contains;
Glucosamine
Chondroitin
MSM
Manganese
Vitamin C.
Each bottle contains 90 tablets, which provides a supply of 3 months when taken one-a-day.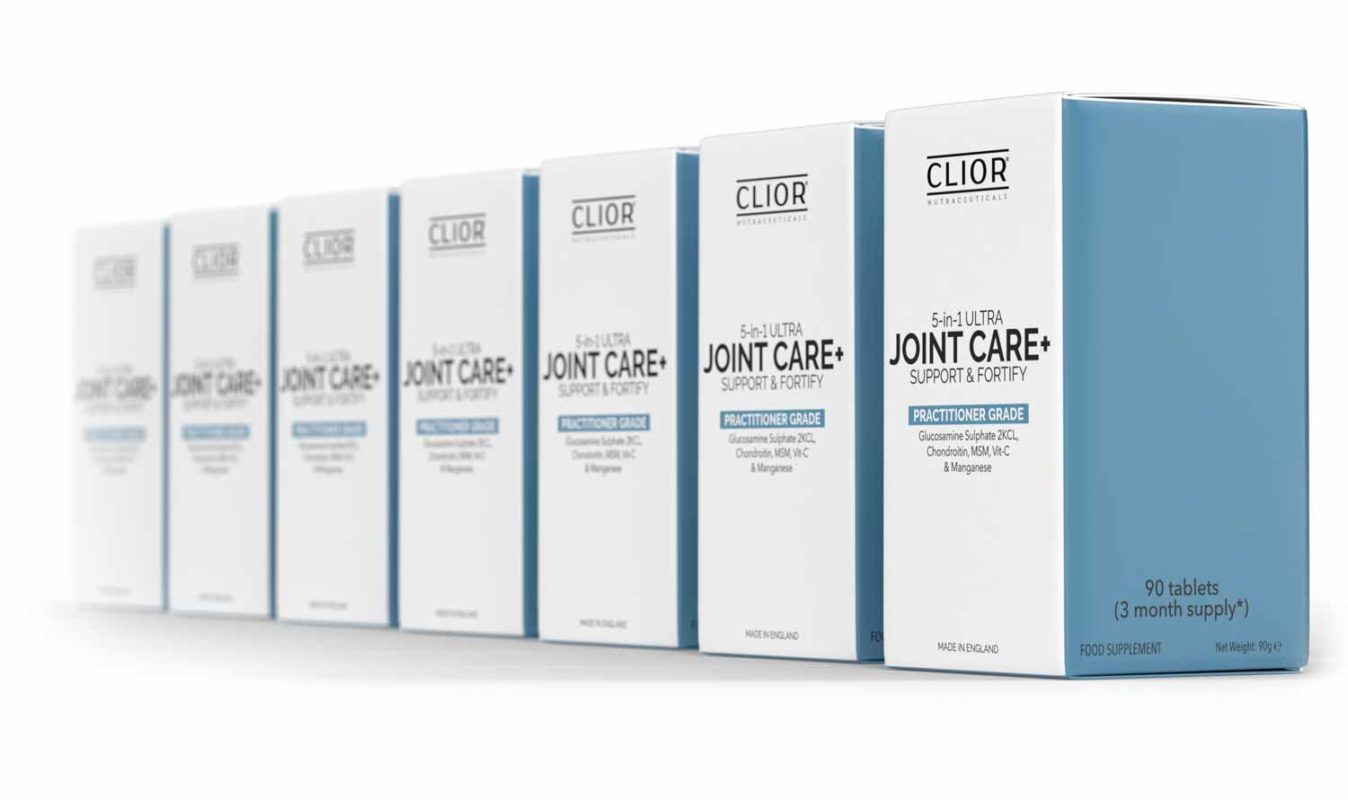 Best Value Joint Care
Clior®  don't add fillers and bulking to tablets. Instead we pack them full of active ingredients. 5-in-1 Ultra Joint Care+ provides the power of five tablets in a single tablet. So strong, you only need to take one-a-day meaning each bottle lasts 3 months!
Trusted by thousands
Thousands of UK adults feel the benefits from taking joint care supplements in their fight against joint pain. Amongst the most popular ingredients are Glucosamine Sulphate, Chondroitin, MSM, Manganese and Vitamin C.
100% Satisfaction
Not all supplements are the same! Clior®  tablets are formulated, bottled and labelled in the UK, to maximum safety, quality & ISO standards for assurance and peace of mind.  Each bottle comes in a sealed, temper-evident box, with a tamper-evident freshness seal in the lid.
"Glucosamine & Chondroitin sulphate are components of normal cartilage. They are the building blocks for cartilage and appear to stimulate the body to make more cartilage."
from WebMD article "Arthritis Supplements"
Delighted and recommended
Previously I was advised to take Glucosamine and Chondroitin by a close friend. I then heard about MSM and thought I can't really afford to buy so many separate supplements, and it's a pain taking so many. I am really pleased to say I now just take one Joint Care+ tablet per day. And I saved about 70% on buying separate tablets from my local health store. Thank you!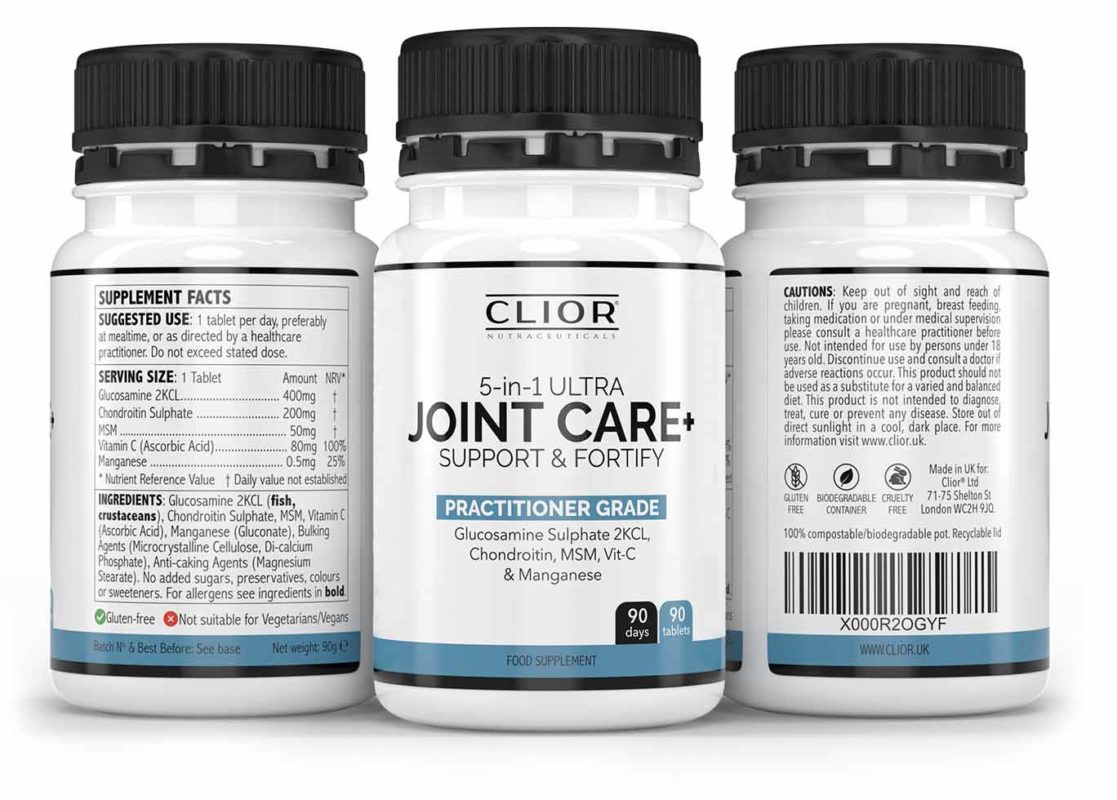 Joint Support to the Power of FIVE
Glucosamine Sulphate 400mg
"The chiropractors' choice".  An amino sugar, often advised to be taken by those suffering from damaged joints or putting their joints under intensive strain. Responsible for sturdy base foundation of glycosaminoglycans, specifically for joint damage repair.
Chondroitin 200mg
A sulphate glycosaminoglycan to support joint lubrication. Chondroitin sulphate is an important structural component of cartilage and provides much of its resistance to compression. Believed to be highly effective to prevent cartilage loss and assist repair.
MSM 50mg
Methylsulfonylmethane (MSM) is an organosulfur compound with the formula (CH3)2SO2.  Also known as DMSO2, methyl sulfone, and dimethyl sulfone. Multiple human and animal trials indicate MSM may reduce inflammation and oxoxidative stress.
Vitamin C 100% NRV
Vitamin C is essential as part of joint care and support, as it encourages natural product of collagen in the body. Collagen is rich in amino acids that play an important role in the building of joint cartilage and it has anti-inflammatory properties.
Manganese 0.5mg
Manganese is known to contribute to the maintenance of normal bones and to the normal formation of connective tissue. Manganese is also used in the treatment of weak bones (osteoporosis).
The Science…
Glucosamine – made from shellfish, is naturally forming amino sugar which is often prescribed as a supplement when a for joint care or repair. Glucosamine is also responsible for the production of glycosaminoglycan (GAGs) that form a steady base foundation for repair of damage.
MSM (Methyl-sulphonyl-methane) – is a natural source of sulphur in the body, which is the fourth most abundant mineral in the body. MSM provides sulphur to support GAGs production and health. GAGs are highly viscous & make a good component for synovial lubricating fluid. Loss of the GAGs at articulating joints is one of the leading causes for osteoarthritis. MSM is therefor believed to be a highly effective supplement in the fight against joint pain.
Chondroitin – is a sulphated GAG, which helps lubricate joints. Chondroitin is sourced from the cartilage of cows and pigs
Manganese (Mn) –  is a trace element, found in small amounts within the body. It cannot be produced by the body so must be consumed. Manganese can contribute to the reduction of oxidative stress, which protects the cell's integrity, supports bone health, and the connective tissues around bones, optimising the health of joints.
Vitamin C (Ascorbic acid) – primarily contributes to normal production of collagen. Collagen is essential for joint health because it is a vital feature of cartilage. Cartilage is the flexible, protective layer that lies between two articulating bones at a joint, when this is worn away, movement of the joints can be very painful.
So pleased I found this
Just received my second bottle of Joint Care+ from Clior and thought I'd leave a review. I've seen cheaper glucosamine tablets before, but they look like imports which I don't trust. I'd rather know I'm getting the real thing, and have the added benefit from combining all four ingredients into a single tablet. I usually take mine just after dinner. It leaves no after-taste, and I believe it's certainly helping with relieving my painful joints as part of an ongoing daily routine and eating loads of oily fish! Happy to recommend to anyone suffering from ongoing joint problems.
SUGGESTED USE: 1-2 tablets per day, preferably at mealtime, or as directed by a healthcare practitioner. Do not exceed stated dose.
SERVING SIZE: 1 Tablet
Glucosamine 2KCL – 400mg
Chrondroitin Sulphate – 200mg
MSM – 50mg
Vitamin C – 80mg
Manganese – 0.5mg
INGREDIENTS: Glucosamine 2KCL (fish, crustaceans), Chondroitin, MSM, Vitamin C (ascorbic acid), Manganese (gluconate)  Microcrystalline cellulose, Di-calcium phosphate, Magnesium stearate. No added sugars, preservatives, sweeteners, or colours. For allergens see any ingredients in bold.
Clior®  only use natural ingredients with the minimum amount of unnecessary processing and treatments to ensure you get the best possible supplements.  Colour variations and speckles are therefore expected, and 100% natural.
CAUTIONS: If you are pregnant or breast feeding, taking prescription medication or under medical supervision it is advisable to consult a healthcare practitioner before use. Not intended for use by under 18's. This product should not be used as a substitute for a varied & balanced diet. Discontinue use and consult a doctor if adverse reactions occur. This product is not intended to diagnose, treat, cure or prevent any disease. Store out of direct sunlight & out of reach of children.
CLIOR LTD is the new name for Cambridge Labs Ltd.