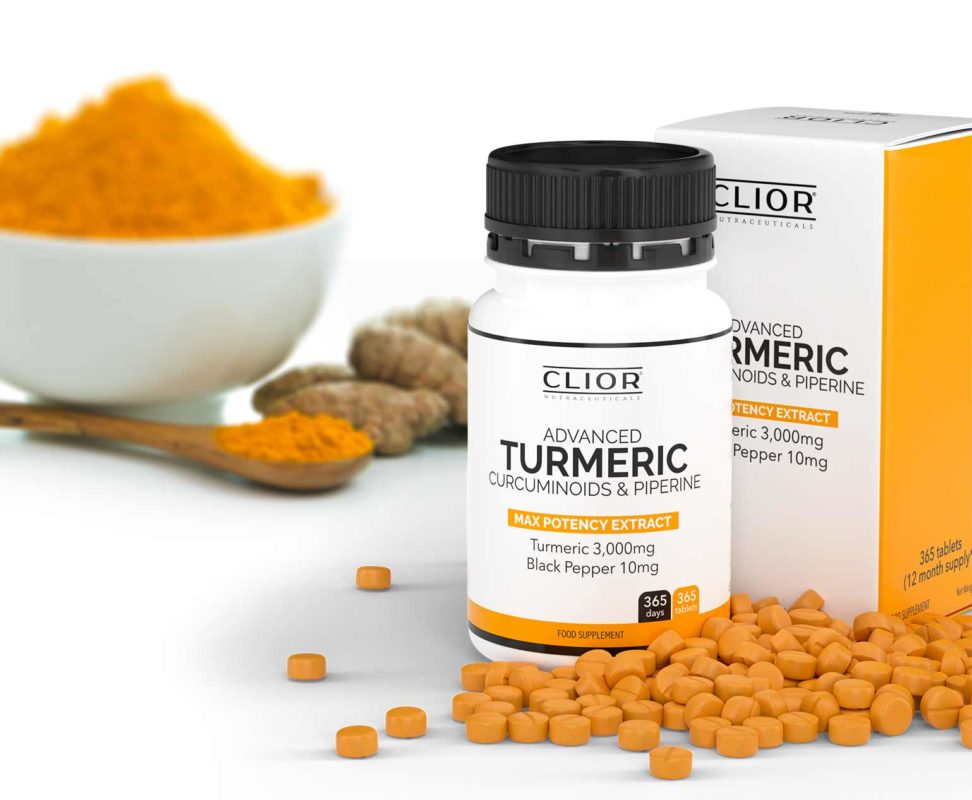 High Strength Turmeric Curcumin & Piperine tablets by Clior®
Getting your daily curcumin intake couldn't be easier with our best-selling ultra-small, one-a-day tablets.
Curcumin: global popularity…
Turmeric has been used for centuries in many countries across the world. But only in recent times has it been recognised in the West for its powerful health benefits.
Early studies now show that Turmeric (in the form of curmumin) appears to have significant benefits when taken as a food supplement.
100% Satisfaction
Not all supplements are the same! Clior®  tablets are made in the UK, to maximum safely & ISO standards for assurance and peace of mind.
Best Value
Each bottle contains 365 tablets which will last you and entire year if taken 1/day. Only 1 supplement is required for the most effective dose of Turmeric per day.
Trusted by thousands
Thousands of people have discovered the benefit of Turmeric Curcumin & Black Pepper tablets, with incredible reviews, making it our BEST SELLER – ever!
These are the best I have ever taken. My knee was giving so much trouble but these tablets have helped so much! A1 product, fantastic.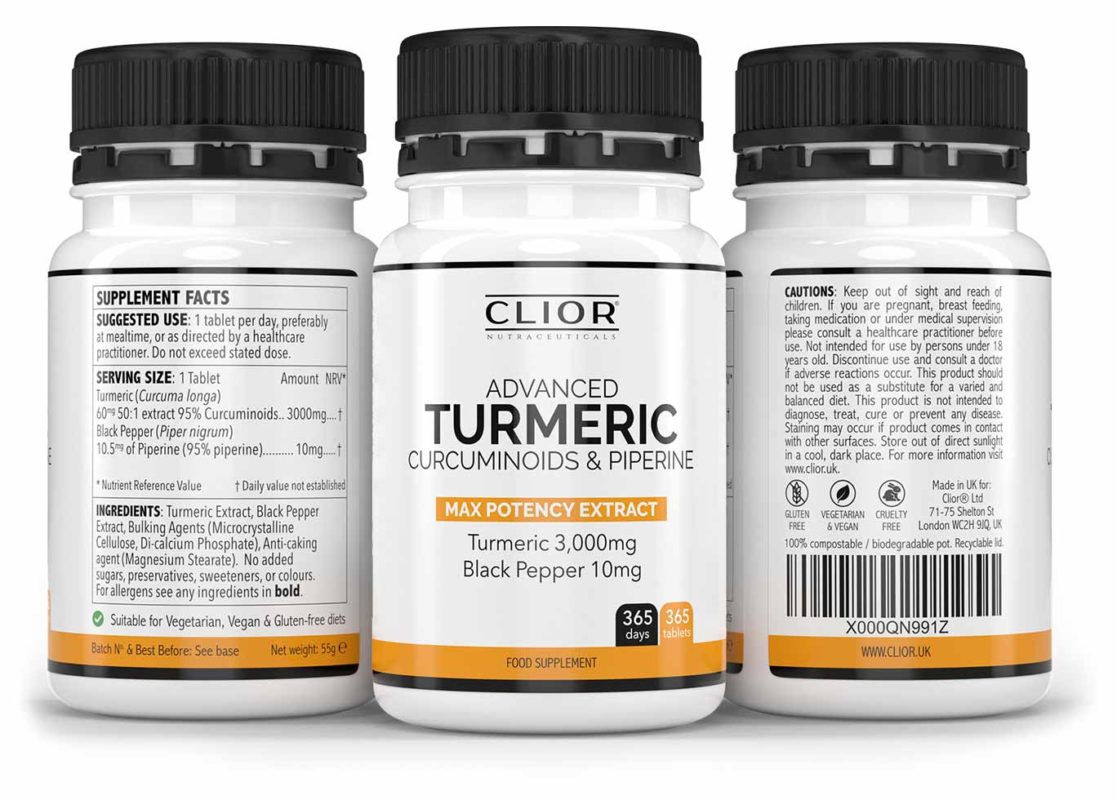 The Science Behind Turmeric
Curcumin
Turmeric has been used as a medicinal herb for centuries, but only recently have scientists identified – curcumin – the main active ingredient in Turmeric. Natural turmeric only contains around 3% curcumin, but Clior®  Turmeric supplements concentrate curcumin levels to 95% resulting in a much more potent effect than eating regular turmeric powder.
The power of extract
Most recent studies evaluating the effectiveness of Turmeric have been conducted using Turmeric EXTRACT, which contains mostly curcumin at doses over 1,000mg.  It would be difficult to consume this much daily curcumin if taken simple as a spice in your food. Clior®  Turmeric contains 3,000mg Turmeric Curcumin extract per tablet.
Bioavailability
Curcumin alone is fairly poorly absorbed in to the body. Recent studies appear to show that combining curcumin with a small amount of piperine (Black Pepper) will help to increase absorption by around 2,000%. Taking turmeric curcumin supplements which do not contain Piperine is believed to be largely ineffective.
The bottom line
Turmeric contains curcumin, a substance with powerful anti-inflammatory & antioxidant properties. Most early studies use turmeric extracts that are standardized to include large amounts of curcumin of 95% at more than 1,000mg dose. This is believed to be the optimum level at which to take Turmeric and combine with Black Pepper (Piperine).
Who should take Turmeric Supplements?
Turmeric Curcumin pills are used widely as a natural and powerful antioxidant and anti-inflammatory for general health and wellbeing.
Turmeric Curcumin supplements are also often taken by those suffering from;
Aching & painful joints,

Osteoarthritis,

High cholesterol

Digestive problems.
It is also reported to be effective* for those with; 
Heartburn (dyspepsia),

Stomach pain or bloating,

Crohn's disease,

Hemorrhage,

Diarrhea,

Skin inflammation from radiation treatment,

General health.
Tablets are great, easy to swallow and really helped with my plantar fasciitis when taking them daily, I swapped to a spray a couple of months ago when I ran out and that was a big mistake noticed – my PF has been playing up again, so I've gone back to these tablets.
PERFECTLY PACKAGED
Bio-degradable bottle
Our new packaging gives you complete peace of mind with a fresh-seal foil and tamper-proof lid and box. Not only that – it's now ECO-FRIENDLY too!  Our bottles are made from 100% natural elements which bio-degrade when composted*.
Excludes cap, which is currently recyclable
SUPPLEMENT FACTS
SUGGESTED USE: 1 tablet per day, preferably at mealtime, or as directed by a healthcare practitioner. Do not exceed stated dose.
SERVING SIZE: 1 Tablet contains;
Turmeric (curcuma longa) 50mg 50:1 extract 95% Curcumin.. 3,000mg +
Black Pepper (piperine)..10mg +
* Nutrient Reference Values
+ Daily value not established
INGREDIENTS: Turmeric Extract, Black Pepper, Microcrystalline Cellulose, Megnesium Stearate, Di-calcium Phosphate. No added sugars, preservatives, sweeteners, or colours. For allergens see any ingredients in bold.
No added sweeteners, salt, sugar, colours, preservatives, gluten, soy, wheat, fish, milk or yeast.
Clior® only use natural ingredients with the minimum amount of unnecessary processing and treatments to ensure you get the best possible supplements.  Colour variations and speckles are therefore expected, and 100% natural.
CAUTIONS: If you are pregnant or breast feeding, taking prescription medication or under medical supervision it is advisable to consult a healthcare practitioner before use. Please note that turmeric can interact with certain medications including anti-coagulants, medication for acid reflux and medication for diabetes and should not be taken alongside these or other similar medications. Not intended for use by under 18's. This product should not be used as a substitute for a varied & balanced diet. Discontinue use and consult a doctor if adverse reactions occur. This product is not intended to diagnose, treat, cure or prevent any disease. Staining may occur if product comes in to contact with other surfaces. Store out of direct sunlight & out of reach of children.
Suitable for vegetarians, vegans and gluten free diets.