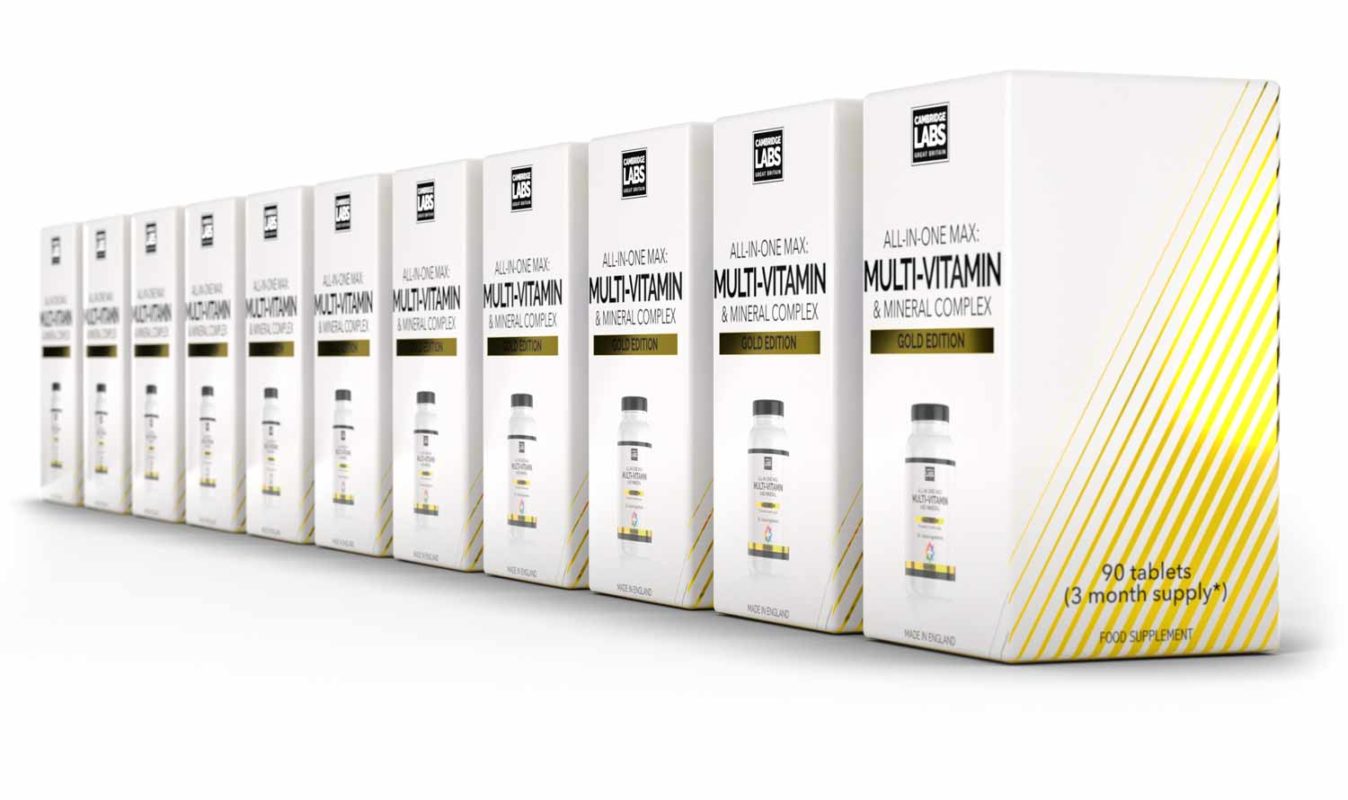 Supporting daily wellbeing
The gold standard in multivitamin and mineral tablet. It can be difficult to make food choices every day that give you the perfect diet and intake of vitamins and minerals. The All-in-one MAX: Multi-vitamin & Mineral Gold gives your body what it needs, supporting your health and wellbeing all year round. Supplying all vitamins to 100% of your NRV (Nutritional Reference Value) plus essential minerals, now including turmeric!
100% Satisfaction
Not all supplements are the same! Clior®  tablets are made in the UK, to maximum safely & ISO standards for assurance and peace of mind.
Best Value
Each bottle contains 90 tablets which will last you 3 months when taken 1/day. Only 1 supplement is required to get your daily dose of 30+ active vitamin and minterals.
Trusted by thousands
Clior®  have been supplying health supplements since 2017 (previously trading as Cambridge Labs), and have grown significantly over that period to supply thousands and thousands of happy customers!
PERFECT! Finally found the best multi-vitamin ever
Been looking for a decent a-z multivitamin for ages , one which contains more than the usual 10 or 15 ingredients. This is one of the best I've seen the quality is so good! Thank you.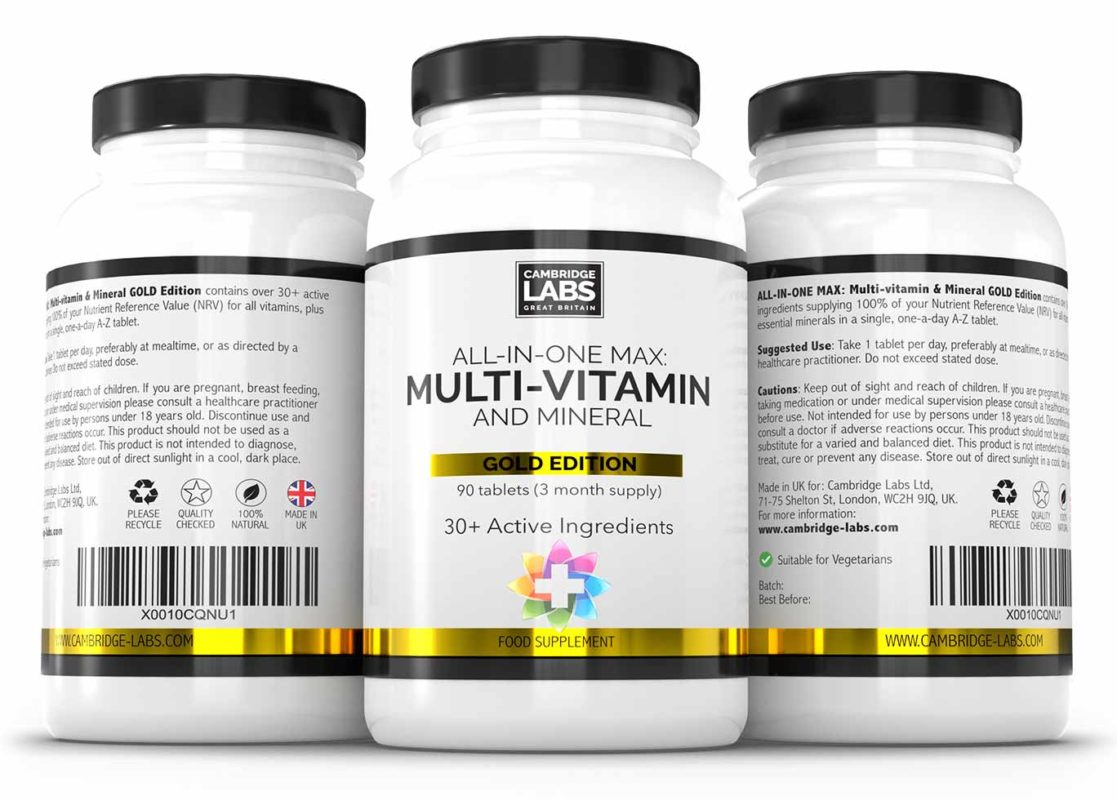 30+ active ingredients / tablet
ESSENTIAL VITAMINS
Vitamin A (100% NRV)
Vitamin C (100% NRV)
Vitamin D3 (100% NRV)
Vitamin E (100% NRV)
Vitamin B1 (100% NRV)
Vitamin B2 (100% NRV)
Vitamin B3 (100% NRV)
Vitamin B5 (100% NRV)
Vitamin B6 (300% NRV)
Vitamin B12 (100% NRV)
Vitamin B9 Folic Acid (100% NRV)
Vitamin B Biotin (100% NRV)
Inositol (pseudovitamin sometimes called Vitamin B8)
All vitamin doses at least 100% of daily EU NRV (Nutrient Reference Value), previously known as RDA (Recommended Daily Allowance).
PLUS…
Turmeric (50mg)
Soya Lecithin (40mg)
Citrus Bioflavonoids (14mg)
Iron (10mg)
Magnesium (5mg)
Zinc (10mg)
Choline Bitartrate (12mg)
L-Lysine (15mg)
Manganese (2mg)
Vitamin B8 Inositol (100% NRV)
L-Methionine (7.5mg)
L-Glutamine (5mg)
Selenium (55ug)
Copper (1mg)
Betaine Hydrochloride (5mg)
Grape Seed Extract (5mg)
Alpha Lipoic Acid (2mg)
Iodine (150µg)
Molybdate (15µg)
Who should take All-in-one MAX: Multi-vitamin & Mineral GOLD?
Most people can get enough vitamins and minerals in their diet by making the right food choices. However, for a number of reasons, that might not always be possible to make the best food choices every day. Multi-vitamin and mineral tablets can therefore be taken to supplement your diet and ensure your body is getting the daily vitamins and minerals it needs.
The new advice from Public Health England (PHE) is that adults and children over the age of one should consider taking a daily supplement of Vitamin D, particularly during autumn and winter.  
All-In-One MAX: Multivitamin & Mineral GOLD contains 100% of your NRV of Vitamin D3.
Wow, literally chucked out 2 of my other vitamin bottles and saved money by just taking a better daily supplement that's even got more in it than my other two old pills combined!
Safety seal
Secure-lock, factory sealed, tamper-evident box. Plus factory sealed, tamper-evident premium freshness foil applied to bottle lid.
SUPPLEMENT FACTS
SUGGESTED USE: 1 tablet per day, preferably at mealtime, or as directed by a healthcare practitioner. Do not exceed stated dose.
SERVING SIZE: 1 Tablet contains;
TBA
* Nutrient Reference Values
+ Daily value not established
INGREDIENTS: Bulking Agents (Dicalcium Phosphate, Microcrystalline Cellulose), Vitamin C 120mg, Turmeric 50mg, Soya Lecithin 40mg, Citrus Bioflavonoids 14mg, Vitamin E 12mg, Iron 10mg, Magnesium 5mg, Zinc 10mg, Choline Bitartrate 12mg, L-Lysine 15mg, Manganese 2mg, Vitamin B3 16mg, Inositol 15mg, Vitamin B5 12mg, Glazing Agent (Hydroxypropyl Methylcellulose), Anti-Caking Agents (Magnesium Stearate), Vitamin A 800µg, Anti-Caking Agent 5mg, L-Glutamine 5mg, Grape Seed Extract 5mg, Vitamin B12 2µg, Vitamin D3 5µg, Alpha Lipoic Acid 2mg, Vitamin B2 1.4mg, Vitamin B1 1.1mg,Glazing Agents (Glycerin), Folic Acid 200µg, Iodine 150µg, Molybdate 15µg, Glazing Agent (Carnauba wax), Biotine 50µg. For allergens see any ingredients in bold. Manufactured on equipment which processes products containing nuts, milk, shellfish, fish and soya.
Clior® only use natural ingredients with the minimum amount of unnecessary processing and treatments to ensure you get the best possible supplements.  Colour variations and speckles are therefore expected, and 100% natural.
CAUTIONS: If you are pregnant or breast feeding, taking prescription medication or under medical supervision it is advisable to consult a healthcare practitioner before use. Please note that turmeric can interact with certain medications including anti-coagulants, medication for acid reflux and medication for diabetes and should not be taken alongside these or other similar medications. Not intended for use by under 18's. This product should not be used as a substitute for a varied & balanced diet. Discontinue use and consult a doctor if adverse reactions occur. This product is not intended to diagnose, treat, cure or prevent any disease. Store out of direct sunlight & out of reach of children.
Suitable for vegetarians.
Also available from our Amazon Store – All In One Max: Multivitamin and Minerals Tablets : Gold edition